We are now using twitter and Facebook to update our news stories.
DVS Annual Awards Day 2015
Thanks to our Sponsors: Mr Batty Gibbons (Centra), Mr Karl Scollan (Gala), Mr Hubert McCormack ( MACE) & Ms Angela O'Dowd, Manager, Bank of Ireland, Drumshanbo, Lough allen Education Centre & Drumshanbo Enterprise Centre. Thanks also to Mr Francis Gilmartin, representing the Board of Management of DVS.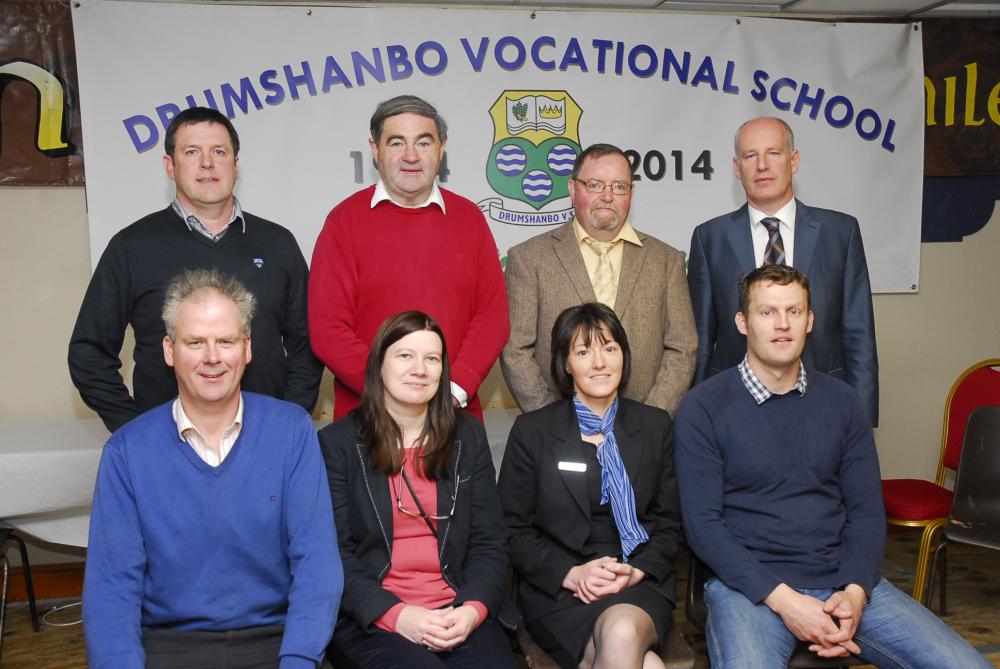 SEE BELOW FOR FULL GALLERY OF PHOTOS FROM THE DAY
First Year: Niamh Nolan & Fergal Moran
Second Year: Anna Corcoran & Diarmuid McKiernan
Third Year: Aleksander Kosnik & Shona Nugent
Fifth Year: Niamh McCauley & Adam Farrell
Bank of Ireland Leaving Cert Student of the Year 2015: Skye Dawson
LCVP Student of the Year: Emma Gunning
Senior Construction: Shane Clarke
Senior Engineering: Caolan Carty
Junior Woodwork: Adam Krupa & Rhiannan Lynch
Padraig Noone Trophy for Woodwork: Adam Krupa
Junior Metalwork: Darren McTigue(Higher Level), Rhiannan Lynch (Ord. Level)
Sports Student of the Year: Kevin Moran
Enterprise Awards: Cathal McGourty & Morgan O' Reilly
CoderDojo Junior: 1st Prize: Luka Dawson; Joint 2nd: Padraig Halsted & Kacper Larysz
CoderDojo Senior: 1st Prize: Brian Keaveney & Sunbeam Feng; 2nd Prize: Kevin Lynch
May 2015
DVS - Overall winners of SCIFEST 2015
DVS had three entries in the Scifest competition held on May13th 2013 in Sligo IT. Eve Flynn, Niamh McCauley, Rachel Maidment took part in the Senior Life Sciences category with their very interesting project called "The hairy situation".
Lisa Wynne also entered the Senior Life Sciences Category with her project comparing coniferous and decidious ecosystems along the Arigna river.
The project that won the Overall Best Project Award was our entry in the Junior Physical Science Category. This project was the work of Aine Kelly, anna Corcoran, Shauna Gilmartin and Niamh McNamara and was entitled "Decibels at DVS". This project now goes through to the next stage of the competition which will be held in Dublin in November. Well done to all our scientists and their proud teacher Ms Pauline McBarron.
Breaking News : Approval and planning permission has been granted for new two storey extension.
Personal Trainer brings mental health awareness to DVS Leaving Cert Students.

Personal Trainer and Health and Wellness Enthusiast Kathie Stritch speaks to Drumshanbo Students about the strong link between fitness
nutrition and mental health.On Wednesday, 28th of February on a cold and snowy day, Leaving Cert students were taken through their paces in a tough but enjoyable and fun workout with Personal Trainer Kathie Stritch.
Visiting the school in an effort to raise awareness for mental health week, Kathie then spoke to the students for 40 mins about mental health
and the link between exercise, diet and mental well-being.
Kathie said that trying to visit as many schools in the Connaught region is one of her main goals for 2015.
"What I found from the students in Drumshanbo Vocational School was an openness to engage with positive discussions about mental health
and willingness to try new things such as exercises movement and
eagerness to learn about correct nutrition,
Often teenagers can be branded as lazy but it is our role as adults to guide then in the right direction through positive and practical advice on
nutrition exercise and the importance of their mental health"
(explained Kathie Stritch)
Drumshanbo Vocational School Student is Top Female Engineering Student in Ireland
Siobháin Daly, Keadue, Co. Roscommon, was recently presented with the Alan Byrne Medal for her outstanding achievement in the Leaving Certificate subject of Engineering. Siobháin received the award for "Best Female Result in Leaving Certificate Engineering in the State Examinations 2014" at the annual Engineering & Technology Teachers Association award ceremony, held recently in the Glenroyal Hotel Maynooth, Co. Kildare. Siobháin's result was based on a Design and Make project of a model Batman Tumbler, a six hour practical day test and a three hour theory exam. Siobháin is pictured with ETTA chairman, Ciarán O'Callaghan and her teacher Enda McNamara receiving her award.

Public Speaking Success
Congratulations to Leaving Cert girls Morgane Debout-Février and Stephanie Earley on their participation in the Soroptimist Ireland Public Speaking North West Final which took place in Sligo on December 6th last.Both of the girls were praised for their speech content and presentation. Stephanie has been selected to go forward to the Connacht final at the end of January. Mr McManus would like to thank the two girls for their dedication and preparation over the last two months.
Sport Report November 2014 ( Mr Simon Cullen, PE Teacher)
It has been a busy few weeks on the sporting calendar for Drumshanbo Vocational School, participating in Gaelic football and volleyball matches alongside a Senior Girls' Basketball Competition and a first year boys & girls FUTSAL competition hosted at DVS.
FUTSAL
The school entered two boys teams & two girls teams into the recent FAI FUTSAL Competition. It is a variant of association football that is played on a smaller ground and mainly played indoors: a version of five-a-side football. The teams displayed great enthusiasm and spirit throughout the tournament with a good level of skill. The girls teams finished in 3rd and 4th place overall and developed their skill as the tournament progressed. One of the boys teams finished in 4th position, while the other team narrowly missed out on progression to the Connacht final after a tense final that was decided on sudden death penalties. Well done to all involved!
Senior Girls Basketball Competition
The senior girls team travelled to Roscommon to take part in a one day blitz competition involving 5 teams from schools in Connacht. The standard of basketball played was very high by all the participating schools. An excellent day of high quality sport.
Girls Gaelic Football
The Senior and Junior (under 16) Gaelic football teams had a number of fixtures recently. The senior team lost out to a strong team who topped the group while also receiving the points in our final fixture of the group. The Junior team played three matches over this period resulting in a comprehensive victory in an away game, while unfortunately being on the wrong side of the result of the last two games. The girls competition has now concluded until next year. Well done to all who participated and represented the school to a high standard.
School Awards 2014
Thank you to our sponsors – Hubert McCormack; Batty Gibbons, Centra; Karl
Scollan, Gala.
Student of the Year: Joanne Barry
L Cert engineering: Fiachra Guihen
L Cert Construction Studies: Siobhán Daly
J Cert Woodwork (Pat Noone Award): Darren Hennessy & Rachel McLoughlin
J Cert Metalwork: Adam McCarthy
Drama: Ryan Fouracre (First Year) & Shona Grunewald (Second Year)
Award for contribution to school life: Morgane Debout
Award for contribution to Liturgy & School Mass: Fiachra Guihen
Sports Students of the Year: Alan McTigue & Lorraine Beirne
Class Prizes
First Year: Ryan Fouracre & Rebecca Moran
Second Year: Daniel McLoughlin & Laura Addison
Third Year: Kevin Moran & Niamh Mulvey
Fourth Year: Diarmuid Beirne & Sinead Moran
Photo gallery will be included later
DVS Student of the Year 2014 - Joanne Barry pictured receiving her award from Mr Hubert McCormack (Sponsor) with Class Tutor and Year Head Mr Adrian Martin and Ms Yvonne Traynor and mr Martin Fallon (Principal)
May 2014
DVS team take second place in French Teachers' Association annual quiz
The french quiz, organised by the French Teachers' Association took place in the Community School, Carrick on Shannon at 7pm on May 8th. Thirteen teams from post primary schools in counties Leitrim, Roscommon, Longford and Westmeath participated in the event. The winners were from Sciol Mhuire in Longford. Second place went to the DVS team - Anna Corcoran, Kellie Griffin, Claire McKeon and Letitia Maugy. Third place went to a team from CBS, Roscommon. Congratulations to all involved.
March 2014
BSTAI Business Award Winner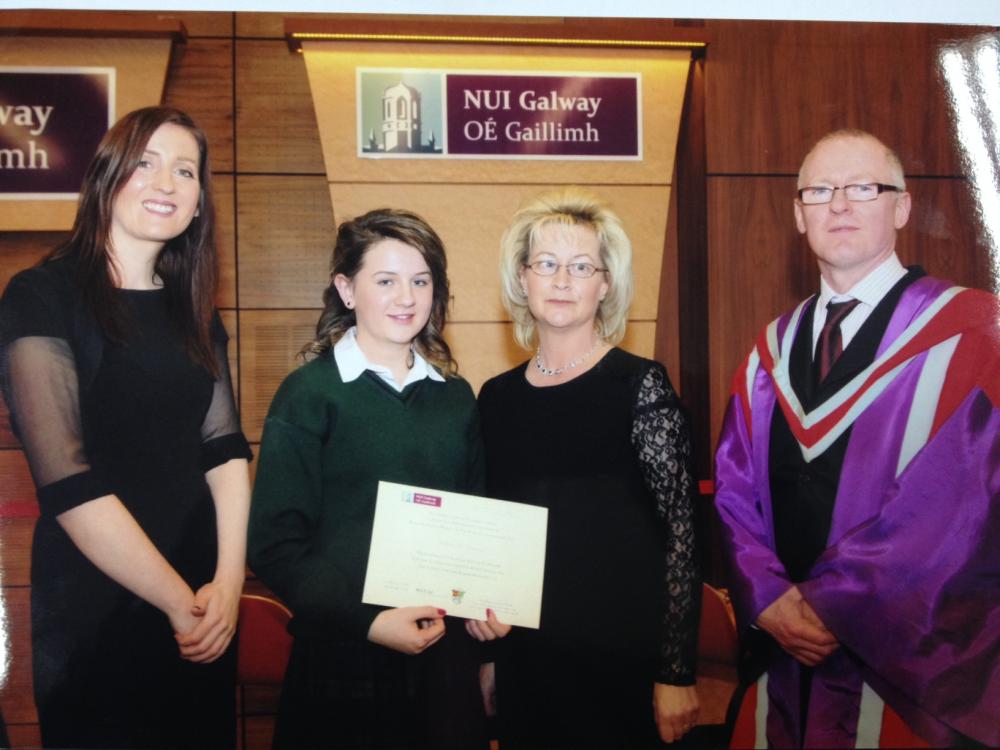 Congratulations to Aideen McKiernan who was presented with the BSTAI Award recently by Professor Ciaran O'Neill at a ceremony at NUI Galway. This prize is presented to students that achieve the best results in the Junior Certificate Business exam each year.
Young Enterprise
Well done to the First Year girls that set up the "Sweet Surprises Co" - Alana Noone, Kellie Griffin, Anna Corcoran & Claire McKeon. The girls baked and sold all kinds of goodies from their stall at reception in the school. They have cupcakes with several toppings, brownies and biscuits. This principal's favourite is the flapjacks - very sweet but at least the oats in them must be healthy ?! Candelicious is another innovative company set up by Deirdre McKeon, Rebecca Moran, Shauna Gilmartin and Miriam Houat. James Tighe's product - universal troughs was a very practical idea and he was assisted by Gary Beirne and Daire McManus. We look forward to hearing more details about these products later. Mr McManus organises entries to this competition every year.
European Charlemagne Youth Prize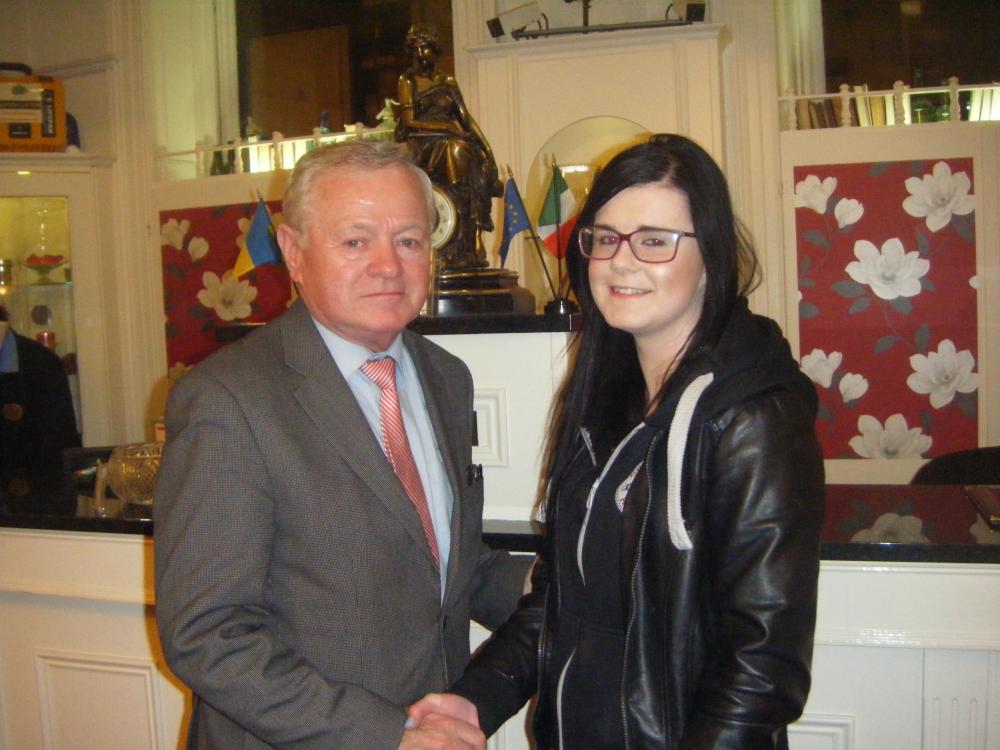 Megan McDermott and Sinead Fox (PLC students) have been nominated to represent Ireland in the European Charlemagne Youth Prize. The prize aims to encourage the development of European consciousness among young people, as well as their participation in the European integration projects. A European jury, consisting of three MEPS' and the President of the European Parliament and four other representatives of the foundation of the International Charlemagne prize of Aachen, will select the winner by April 17th. They will attend an award ceremony in Aachen, Germany on the 27th of May. Their project "Embracing Change Programme" will now go forward to be considered with winning entries from the other 27 member states.