November 25th 2014 - report from Mr John king
Schools Volleyball: Senior A Boys: National League
Drumshanbo Zoom to top 3
Drumshanbo Vocational school, after a first set drubbing from holders Brigids, rose to new heights to gain 3rd position in the years final league table. A shock first senior A win over a Loughrea school in 9 years has put them in the national senior A semi-final for the schools 20th time in 23 years. Moreover the win will give them huge confidence approaching that semi-final.
Match 1: St.Brigids(holders) bt Drumshanbo 25-12 25-22
So far and yet so near
Such is the resilience of this ever improving Drumshanbo team, that an outstanding first set from a Brigid's team with European experience did nothing to daunt them as they led at many times in an exhilarating 2nd set. With the game poised delicately at 21-20 for Drumshanbo, an outstanding dump from Michael McCormack appeared to send the holders into disarray only for Drumshanbo players to think they had the point won. Shocked by their misjudgement they gave away an easy next point to allow Brigids to sneak to top of league.
In the first set an error ridden Drumshanbo gave the holders an early lead and then Brigids gave a magnificent display of variety of attack that opened up a massive lead. But just at the end of the set Drumshanbo were beginning to read them.
Brigids again opened strongly in the 2nd set but, set by Jordan Earley, Kevin Moran(Murhaun) spiked a winner and hit aces that turned the game in his favour. Brigids powered back to lead 15-12. Then a classic Alan McTigue to Earley to set up a Moran spike winner started a purple patch. McCormack's block took the sting out of Brigids power. Drumshanbo won a huge rally at 15-17 and Owen Dolan dominated in defence and hit cracking aces. Drumshanbo led 21-20 but it was not to be.
Match 2: Drumshanbo bt St Raphaels Loughrea 25-12 25-22
Drumshanbo avenge hardbreaking losses
In 2 nail-biting tight All Ireland semi finals last year in senior and cadette Drumshanbo had Raphaels on the ropes but lost. After a resounding Drumshanbo first set win last Friday Raphaels duly battled to the end of 2nd set but the same Drumshanbo boys could now celebrate.
Drumshanbo came into their final league matches looking less impressive than Elphin and then saw Elphin dropped all sets against the 2 Loughrea schools. But at 3-all in the first set, Drumshanbo just took off. Jacek Ozdobinski passed into Earley who set set up McTigue for a clean winner. Burning Dolan aces shot them 8-3 ahead. However Elphin had a similar lead in their match only to see Raphaels come back. There was a crucial 53 touch rally at 13-8 with Ozdobinski and Moran deeply involved. McTigue then killed them with an ace. In fact Drumshanbo errors prevented an even bigger win.
From last year Drumshanbo knew Raphaels were not finished. The sides were level in the 2nd set 14 times with Raphaels leading most of the way up to 15. In fact only for 2 good service runs from Earley, Drumshanbo would have been well behind. Ozdobinski aces finally opened a gap, with Moran prominent in retrieving and attacking. Raphaels fought furiously but it took them 100 touches to break down the Drumshanbo defence for 2 points, the 2nd saving a match point. McCormack's cover frustrated them and Drumshanbo gained a great victory.
D'shanbo serves : Owen Dolan 14, Earley 9, McCormack 10, McTigue 11, Moran 14, Ozdobinski 10
Schools volleyball: All Ireland Junior A semi-final
Drumshanbo's flying start not enough to see them through
By Fergal McWeeney
Davis College Mallow beat DVS 25-16 12-25 25-18
A magnificent start for DVS in the all-Ireland semi-final against a mighty Mallow side wasn't enough as the Cork giants responded in the second and third sets.
It was looking to be a long day in Loughrea as this all Ireland semi final got underway. Both teams full of determination as a rally began at 0:1 which seemed like it would never end. The teams seemed evenly matched but, with two Luke Tuite serving and 3 great blocks from Cormac Griffin, Drumshanbo began to pull away. Drumshanbo were flawless in this set and rarely made mistakes only missing one serve in total. Mallow did come back to within one or two points at times but Drumshanbo were well able to deal with their power. Raymond Gallagher showed this with a superb dig at 13:16 and 2 great spikes further on. Drumshanbo remained in control and Luke Tuite finished the set out in style with a brilliant spike. It was a great display from both teams but Drumshanbo were dominant and Mallows mistakes really did cost them.
In the second set Mallow took a page out of Drumshanbo's book and they improved a lot. They had learned their lessons in the first set and were ready for everything Drumshanbo threw at them. Mallow sped into the lead and despite another long rally at 3:9 Mallow won that point which was just another boost for them. A great display of spiking and blocking from Luke Tuite and Fergal Gilmartin wasn't enough to get the vital scores. Mallow were a lot better in this set and despite Thomas Mc Manus's hard hitting and clever play from Kian Gibbons Drumshanbo just weren't let do the things that came so easily to them in the first set. 12:25
Both teams were determined to do well in this set as the winners would proceed to the final. Try as the might, it was not Drumshanbo's day. Danny McLoughlin was started for this set and got a great block at the start. At 1:1 there was a 36 touch rally which Mallow won and began to slowly pull away. This was much the same story as the second set as Mallow demonstrated their power and class. At 22:12 things were looking grim for Drumshanbo but this is when they upped the tempo. This late push proved too late however as Mallow only needed a couple of points to win. Mallow did in their final point again demonstrate that power they had been showing all day and no - one could deny that they were deserving winners. Drumshanbo had some great play near the end and showed good character to comeback but it was too late as Mallow only needed two points to seal victory.
Drumshanbo can be proud of themselves knowing what they achieved already. Gallagher and Gibbons had another 100% service day with Gibbons extending his season run to 45 in a row- the best school run since 2007. McManus also had another great all court day.
When Cian Beirne got a minor hand injury at football 10 days before the game it seemed to be a temporary set-back but his all court game was not possible and, even as a libero, he was restricted in his play. It proved a big loss. Also it must be also kept in mind that Mallow school is much bigger than Drumshanbo in terms of sheer numbers they certainly have a larger pool of players to choose from. Drumshanbo shouldn't feel too hard done by as they can hold their heads up high knowing that as a team they can only improve and have many more years together as they go up through the cadette and senior ranks.
Panel Serves; Drumshanbo A; McManus 4, Cian Beirne L, Gibbons 12, Gilmartin 7,R.Gallagher 5, Cormac Griffin 4, Luke Tuite 12, Brian Cotter, Daniel Mcloughlin 1, Alan Doran , Brian McCormack, Christian Wynne .
This loss to Mallow ends a 23 year consecutive run of getting to school volleyball all Irelands. All good things must pass. But they nearly made it!
In the previous round Sam Tighe hit 37 serves in a row on one day for Drumshanbo B which could be an all time school record for a day.
.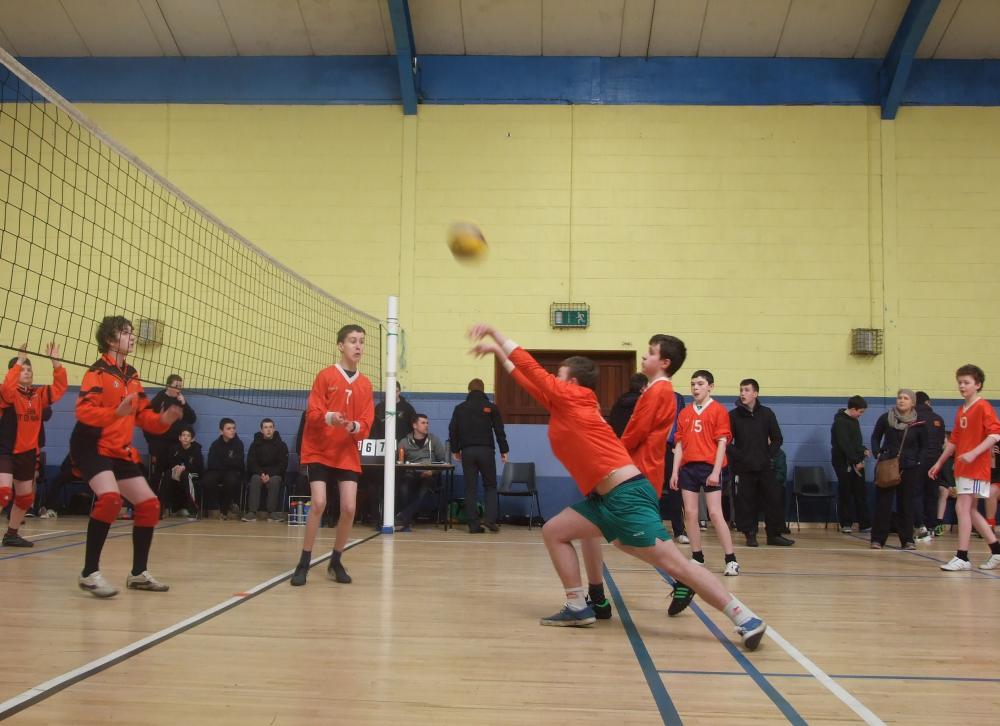 May Report
Schools Volleyball: Junior boys last 16 /quarters
Drumshanbo break Loughrea hoodoo on the double (As appears in Leitrim Observer)
In December 2009 Vocational Drumshanbo went to the National final as favourites to be the top boys school for the 2nd consecutive decade. St. Brigids, Loughrea denied them that day and have beaten Drumshanbo every single meeting since, winning 3 All Ireland senior A, 4 cadette A and the last 3 Junior A finals. This year Raphaels Loughrea pipped Drumshanbo in both the Senior and Cadette A semi-finals in agonising losses. But, unbelievably, last Thursday, on Loughrea's home ground, in one fell swoop, Drumshanbo ended the 5 year run of Loughreas in Junior A and actually were joined by neighbours Elphin in the National semi-finals.
Little did Drumshanbo and Elphin know it was going to be such a successful day when early on that morning , after the long bus ride together, they faced each other in the opening A match. No more than Drumshanbo, Elphin had modest expectations. But Elphin's modesty was forgotten when they lead Drumshanbo 5-3, 7-5, 8-6, 9-8 10-9 14-13 16-14 and crucially at 23-21. Drumshanbo played very cautiously with only Thomas McManus hitting clean winners. At 21, Jordan Earley's time out just saved the day for Drumshanbo as the steady Raymond Galllagher served them to the set win.
In the 2nd set Kian Gibbons pulled Drumshanbo ahead at 8-3. His retrieving spiking and blocking led the way. McManus served a run to 18 and Christian Wynne finished them off with some great ball control.
Drumshanbo's next match was the match of the day. Raphael's Mark Holohan and Bruno Henriqueu were possibly the classiest players of the 100 players that were to play on the day. Drumshanbo fell 8-19 behind. However, they made Raphaels work from then on. Gibbons retrieved several of the classy spikes and it gave some hope.
In a very close 2nd set Drumshanbo trailed up to 13. Finally, it was the super setter Cormac Griffin, with his dead underarm serve that opened a light towards recovery and a 20-15 lead. Gallagher spiked non-stop during this run. It failed to stop a Raphaels' comeback but Drumshanbo just survived.
It took a lot to calm down an ecstatic young Drumshanbo team after a fabulous set. 3 times this year in senior A and cadette A Raphaels had come from behind to win. Fergal Gilmartin gave Drumshanbo the perfect start with 4 aces. Gibbons spiked and returned at the top of his game. But Gallagher's run to 13-8 was no guarantee and Raphaels did fight back to 14-13 before Drumshanbo broke the hoodoo.
Now Drumshanbo faced the champions Brigids. The holders were super relaxed and played superb defence but Griffin, now serving overhand broke Drumshanbo ahead at 10 and Cian Beirne served 5 to 22-13 so they had a cushion against a comeback. In the final set, sure of top place, Jordan and Darren Early rested 3 of their stars. Brian McCormack improved the whole set but early on Brigids led 7-4. Then Luke Tuite hit 10 serves in a row. Beirne, one of the best defenders throughout the day was now superb at the net with a series of minimum power, maximum direction blocks at the net. Danny McLoughlin set up top class high ball and hit a great spike at 19 and then Tuite served 5 more to finish the match.
Scores : Drumshanbo bt Elphin 25-21 25-16,bt St.Raphaels Loughrea 16-25 25-23 15-12, bt St.Brigids(holders) 25-19 25-16.
Drumshanbo and Elphin both face teams from the new power house of the south-Mallow in the semi-finals.
Panel Serves; Drumshanbo A; McManus 21, Beirne 20, Gibbons 25, Gilmartin 16,R.Gallagher 18, Griffin 15, Tuite 16, Brian Cotter , Mcloughlin 2, Alan Doran , McCormack 2, Wynne 1
Dodgy start ruins great finish for Drumshanbo Bs
It was to prove crucial at the end. Despite Sam Flynn starting them 3-0 ahead Drumshanbo allowed Elphin sneak a first set win. Having beaten Elphin 2 sets to nil before, they should have again and the drop of that crucial point for the set pushed Drumshanbo into 3rd team of the day and out of competition.
But there were great moments from the day of the 5 team blitz. Danny McTigue's 10 serves in a row, Ben Saul's digs and his combination play with Cormac Lynch gave Drumshanbo an easy 2nd set win versus Elphin.
Against Brigids C Drumshanbo really failed to ignite in the first set despite best efforts of team captain Nathan Malone who tried to keep his team competitive. Then Drumshanbo quickly forgot about the first set, with Flynn serving them far ahead. Ryan O'Connor was introduced and made a crucial block. Oisin McManus Wynne had a run of serves with Saul finishing with 10 to make it clear there would be only one winner
Against top team Brigids B the teams constantly swapped points. David Gallagher shone in serving, setting and digging. After Brigids sneaked that set heads dropped in the 2nd set. James Cotter and Evan Gunning however really played well with serving and setting but Drum failed to get the vital scores.
Needing to win the final game against Raphaels, Drumshanbo finally had a great full performance . Flynn led the way with 7 serves in a row to lead 7 – 0. The final set of the day had a great combined play from Cormac Lynch who hit a stunning shot. The final plaudits went to Diarmuid McKiarnan. In a very close set it took his nerves of steel to score from 24-25 to 27-25.
Scores: Drumshanbo B vs Elphin 22-25 25-12, vs Brigids B 21-25 10-25, vs Brigids C 11-25 25-7, vs Raphaels 25-13 27-25
March Volleyball Report
Schools Volleyball: Junior Seedings

Drumshanbo overcome Elphin fright
After three games of the Junior seedings all pointers seem to suggest Elphin's day . Their As crushed their own Bs and Drumshanbo's whereas Drumshanbo's As struggled by Elphin Bs. But an unstoppable run by Sam Tighe-Flynn led Drumshanbo B to victory over Elphin Bs and Drumshanbo A edged out Elphin A in the big match.
Cormac Griffin for Drumshanbo Awas one the finds of the day as his consistent serve broke the deadlock in their first match versus Elphin B. Brian Cotter also starred as he unfroze his startled teammates in the 2nd set against Elphin B. Elphin had 3 set points in this set, one saved by a good placing from Christian Wynne. Luke Tuite's power finally broke the deadlock although later his patient tipping of the ball in the final set against Elphin A was just as impressive.
Drumshanbo B's first set versus Elphin A saw captain Nathan Malone ace, good digging from Ben Saul and Cormac Lynch setting up Evan Gunning to hit a winner, all part of a dogfight after trailing 3-22. In the 2nd set runs of serves from David Gallagher and quick reactions from James Tighe made the 2nd set closer.
Against Elphin B, besides Flynn's run, Darren McTigue received the ball well and passed better and better through the set. An ace from Roland Semjanovskis sealed the 1st set for Drumshanbo B. James Cotter, with a 100% serve record for the day, turned the lead in the 2nd set from a close 16-14 to a safe 20-14.Diarmuid McKiarnan also continued his 100% serve record and Blaine O'Connor's serve sealed out a crucial win.
The battle of the As saw Elphin lead to 11. Then Cian Beirne, who served 25 in a row on the day, open up a 4 point lead. Beirne's powerful spikes during the match surprised everyone. An Alan Doran ace inspired an early lead in the 2nd set. A Brian McCormack winner was part of a Drumshanbo comeback from 9-14 to 16-14 but Elphin took over towards the end. The final ,deciding, set of the tournament, started very tight with an on-the -run dig and an ace from Raymond Gallagher keeping Drumshanbo in touch. Gallagher's spike also peppered the action throughout the day. Then Fergal Gilmartin, with a series of aces opened up a huge lead of 11-4 for Drumshanbo. But the resting of Griffin encouraged a huge comeback from Elphin and, helped by errors from Drumshanbo, they levelled at 18-18.
Back though came the ever lethal combination of Kian Gibbons and Thomas McManus. Gibbons had hit many spikes but now he set up McManus for 3 unstoppable hits. Drumshanbo regained the lead and never lost it.
Christian Wynne sealed Drumshanbo's win against their own Bs but the big winner on the day was the steady combining between all the players. Elphin can also be pleased with their great defence.
Scores: Drumshanbo A bt Elphin B 25-15 31-29, bt Elphin A 25-17 19-25 25-22,bt Drumshanbo Bs 23-25 25-13 25-19
Elphin A bt Elphin B 25-8 25-10, bt Drumshanbo B 25-6 25-14
Drumshanbo B bt Elphin B 25-15 25-19
Serves;Drumshanbo A; McManus 14, Beirne 27, Gibbons 14, Gilmartin 13,R.Gallagher 12, Griffin 17, Tuite 22, B.Cotter 3, Mcloughlin 8, Doran 11, McCormack 9, Wynne 16
Drumshanbo B ; Saul 7, Malone 7, McTigue 8, Flynn 21 Lynch 7, Gunning 5, Tighe 4, J.Cotter 18, D.Gallagher 12, McKiernan 5, Semjanovskis 7, O'Connor 9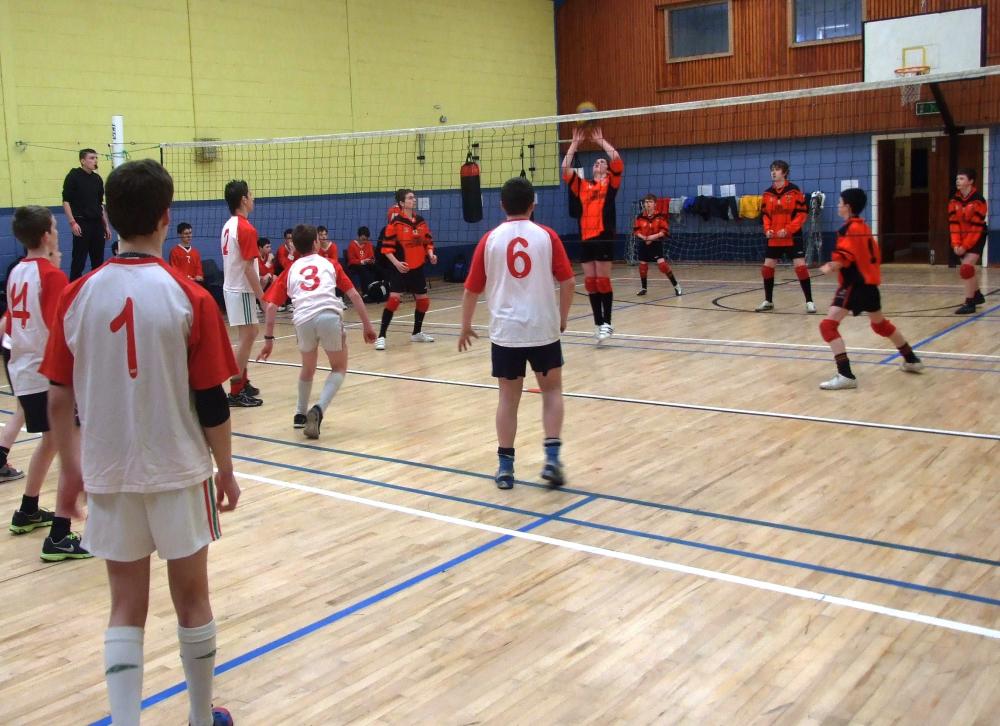 Report submitted by Mr John King